90cm Chimney Hood RH-C819-GB + 2 Burner Built-in Gas Hob RB-712N-G Rinnai Rinnai (FREE 2 GIFTS)
Save

20

%
Original price
RM3,869.00 MYR
Current price
RM3,096.00 MYR
SKU
ABM-1201F(K)+STV-2200W(A)
Details: 
Baffle Filter with Wire
Baffle filters come with a grease trap and the filters are sloped, so any grease and moisture that is captured will drip into the grease collector at the back of the hood. With a wire hooked onto the filter, you can take them out without worrying accidental drop.
Easy-to-open Baffle Filter
The baffle filters can be easily opened up for cleaning since they are no screws attached to it.
Long LED Bar
Energy saving and long lasting LED gives out a warm, natural light.
Oil Collector
The large stainless steel oil cup can contain more oil and has a window to see the oil level.
Sensor Touch Control
Touch control is extremely easy to use and indicates speed, light and delay timer.
Delay Timer
3 minute turbo speed delay timer
90 second low speed delay timer
Specifications:
Hood Type: Chimney
Suction Power : (m³/hr) 1350
Extraction: Mode Ventilated / Recirculation
Speed Settings: 3
Filter Type: Baffle
Oil Cup: Yes
Control Panel: Touch Sensor Control
Delay Timer: Yes
Light: LED
Ducting Hose: Not Included
Width (cm): 90
Product Weight (kg): 24.0
Product Size (W x D x H) (cm): 89.8 x 50 x 54.5-101
Package Weight: (kg) 26.0
Package Size: (W x D x H) (cm) 96 x 50 x 58
Technical Diagram: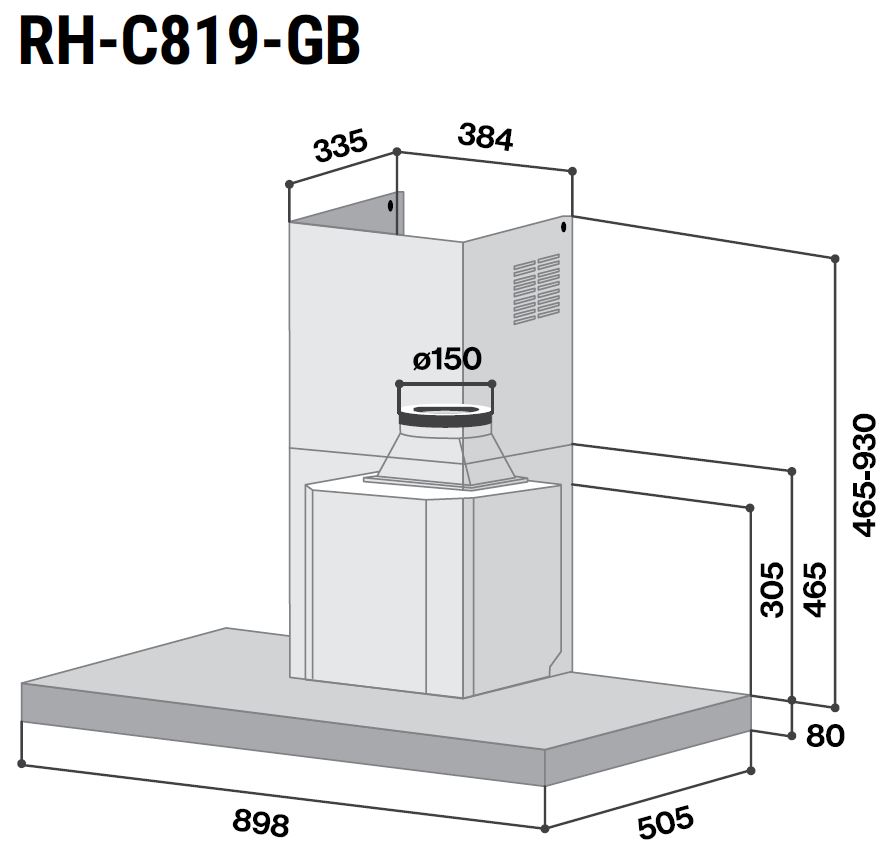 Chimney Hood :
Key Features:
1350m³/hr Suction Power
3 Speed Settings
Delay Timer
LED Touch Sensor Control
LED Light Bar
Detachable Baffle Filter
Oil Cup
Ventilation / Recirculation
2-Burner Built-in Gas Hob (Glass) 


Features:
3.7 kW Gas Input
Sealed Burner
Flexible Cut-Out Size
Tempered Glass Top
Enamel Pan Support
Battery Ignition
Rubber Legs Attached
Japan Good Design Award
Details:
No. of Burner - 2
Gas Input (LPG) - L/R: 3.7kW
Gas Type - LPG
Power Supply - Battery ignition
Control Panel - Knobs
Safety Device - No
Pan Support - Enamel
Flexible Cut-Out - Yes
Product Weight- (kg) 12.0
Product Size (W x D x H) (cm) - 78 x 46.5 x 6.7
Cut-Out Size (W x D) (cm) - 65-73.5 x 35-42.1
Package Weight (kg) - 13.78
Package Size (W x D x H) (cm) - 82 x 51.3 x 16.6


FREE 2 GIFTS:
Choose 1 only:
 28cm Spring Steamer Pot  OR  3.2L Black King High Casserole
NOTE: TO FIND OUT MORE ABOUT THIS PRODUCT PLEASE CONTACT US.